When it comes to board applications, do you know how candidates are graded?
In my previous article, I started with a series about compiling board applications; I specifically concentrated on the supporting statement all board applications should have. In preparation for writing a successful supporting statement, it is important you understand what is likely to happen to your document once it is received.
You need to know that your document, and everyone else's, is going to be sifted. This means that, because this is a competitive exercise, the recruiting organisation or person managing the recruitment process, is going to measure your response against an ideal response.
In doing this, they will grade each response with either a score out of ten or an A, B or C (or something similar). The aggregate of these scores will mean that your application is graded either:
An 'A' Candidate
A 'B' Candidate or
A 'C' Candidate
Candidate grades follow a typical bell curve with 10% being C candidates, 80% falling in the middle and 10% being A candidates.
It is highly likely that most, if not all, of those chosen for an interview, will be A candidates. Further, if you are an 'unknown' candidate, then only if you are an 'A' Candidate are you likely to be interviewed.
The characteristics of the different grades for candidates
C Candidates
C candidates, or the equivalent, typically make up just 10% of applications received.
These people are those who technically respond to the questions put before them.
However, they typically don't:
provide examples
provide any evidence of success
Instead, they simply explain that they understand the criteria and provide limited information about how they personally meet it.
B Candidates
B Candidates, or the equivalent, make up the bulk of candidates – approximately 80% – ranging from the aspirational to experienced. You cannot afford to be in this group if you are trying to stand out.
Typically, they will:
Provide a 'technical' answer & only brief examples
And not detail their successes
Also, they are typified by including too much contextual information.
A B-candidate is unlikely to be selected for an interview often because there are more experienced candidates or they are let down by poor, rushed or simplistic applications – not necessarily because of their inability to do the role.
A Candidates
A-candidates typically make up just 10% of applications received.
These applicants stand out because they meet the criteria – in most cases 100% of them.
But further, they are almost certainly:

Clear and concise though also
Full of factual information supporting their claims to how they meet the criteria. By this, I mean that they state with confidence and evidence that they have done in the past (or currently) just what the criteria ask for.
In my experience, often the most powerful applications are simply a list of successes and don't include the context or their previous roles but instead just the outcomes of what they did. I like this approach, as it assumes that all of the daily detail that they did in the role they did well because they got a positive outcome.
After all, the context is going to change dramatically from one board role to another – what an appointing organisation is really interested in, is knowing that success is ensured when they appoint a board member – regardless of the context. Be sure that you demonstrate that success with confidence.
The challenge here, beyond demonstrating your success, is to make your document easy, succinct and confident but not arrogant. The good candidates manage to do this. Spend some time considering how your application will be received.
Board Direction helps you fast track your appointment as non-executive director. Click here to find out more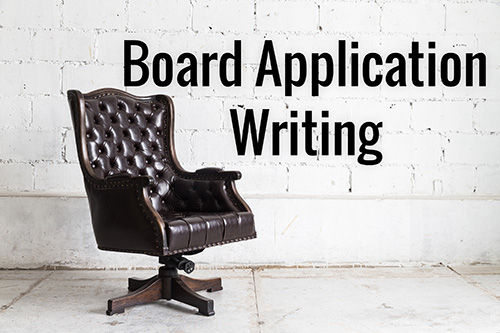 The writing of Board Applications (including the Cover Letter, Supporting Statement and Board CV) can be a daunting process for most people. Let us help you write an application that will not only set you apart from all the other applicants but will dare them not to appoint you.
Read more about our Board Application Writing Service
About the Author
David Schwarz is CEO & Founder of Board Direction – Australia's leading board advertising and non-executive career support firm. He has over a decade of experience of putting people on boards as an international headhunter and a non-executive recruiter and has interviewed over one thousand non-executives and placed hundreds into some of the most significant public, private and NFP roles in the world. He has been described as Australia's leading board recruitment expert, is a published author, a regular speaker on the board appointment process and runs Board Search Masterclasses across Australia. He is one of Australia's Top 10 LinkedIn users with over 29,000 connections. Email: ua.mo1701622029c.noi1701622029tceri1701622029ddrao1701622029b@tca1701622029tnoC1701622029