Writing Board Applications is an intricate and time-consuming process. In this article, I want to take you through the first of three documents you should write when applying for a board appointment – a Supporting Statement. Whilst, on some occasions, you might not be required to write a supporting statement, the process of writing a document that addresses a set of key criteria, or the elements that your application is going to be judged against, is a useful one.
The purpose, style and impact of a supporting statement
Before you begin to write your supporting statement, you need to understand the purpose for doing so, as this will impact on the style of writing you should undertake, the document's content and its impact.
It should go without saying that you need to have done your research prior to contemplating putting in any board application, particularly a written one, as this is what is going to separate you from other applicants. Before writing your documents, you should also check with the advertiser, the recruiter or the Chair as to what they expect by way of an application.
If they just want a CV and not a statement, then it is good to know that up front. Equally, they may have a form they wish you to complete or a word limit. Don't forget to ask about their timings too – you don't want to miss out on a role because you got an application in at 6 pm when the closing time was 5 pm.
Having done your research and understanding the application process, now is your final chance to do a 'sanity check' on your suitability for the role. Writing a strong application cannot be done in half an hour – it requires some effort.
Despite your eagerness to be appointed, take a close look at the criteria that are provided by the organisation. You need to ensure that you meet most, if not all of them – not just in desire but also being able to EVIDENCE how you meet the criteria.
Additionally, you should have in your mind between 3 and 6 examples that you can use to demonstrate successfully having achieved what it is that they are looking for. To be clear, these examples should straddle the entire criteria listed and not just focus on a couple of them.
In my experience, the best applications are often submitted last. Don't rush an application; do your research properly and take some time to ensure what you submit is free of grammatical errors, mistakes and truly dares them not to appoint you.
The basics of writing supporting statements
Essentially, all this document does is address all the criteria in a logical manner that the organisation has set before you. If are provided a list of essential criteria, you need to address them all.
On many occasions, you will be tempted to think that some of the criteria are asking for the same thing. However, this is rarely the case. The organisation will have thought long and hard about these criteria and whilst on first glance they may look similar, it is highly likely that there are nuances within each criterion that need to be recognised. It is these elements that the organisation will often use to critique your application against.
It is paramount then that, even if you feel as if you are duplicating your responses, you need to continue to address them each specifically. Jump through the hoops that are put before you.
A good way to get your mind right is to assume that hundreds of people are applying for the same board role that you are. Doing this will reinforce the need to stand out from your competitors. To do so, you need to include both what you have done (your experience) and evidence of success.
Some of the most powerful supporting statements I have seen have simply been almost just a list of evidence of success. Don't be afraid of being brief, your cover letter will make up for any brevity.
Don't forget to also use the research you have conducted to demonstrate that you are a knowledgeable candidate. This research can be used in a supporting statement as much as it can be in a cover letter and will truly separate you from other candidates.
Remember that these responses do not need to be lengthy – but they do need to be readable and the content must first and foremost demonstrate not only that you have done what they are asking for but that you have done it successfully. Above all, ensure your supporting statement evidence success, as it will help you to dare them not to appoint you.
Board Direction helps you fast track your appointment as non-executive director. Click here to find out more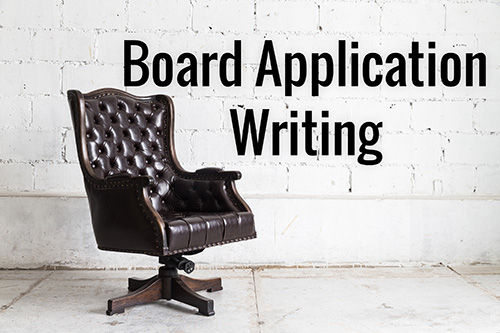 The writing of Board Applications (including the Cover Letter, Supporting Statement and Board CV) can be a daunting process for most people. Let us help you write an application that will not only set you apart from all the other applicants but will dare them not to appoint you.
Read more about our Board Application Writing Service
About the Author
David Schwarz is CEO & Founder of Board Direction – Australia's leading board advertising and non-executive career support firm. He has over a decade of experience of putting people on boards as an international headhunter and a non-executive recruiter and has interviewed over one thousand non-executives and placed hundreds into some of the most significant public, private and NFP roles in the world. He has been described as Australia's leading board recruitment expert, is a published author, a regular speaker on the board appointment process and runs Board Search Masterclasses across Australia. He is one of Australia's Top 10 LinkedIn users with over 29,000 connections. Email: ua.mo1656865766c.noi1656865766tceri1656865766ddrao1656865766b@tca1656865766tnoC1656865766