In my last few articles, I have been looking at the board application process; the importance of adding a supporting statement and how candidates are graded during the application process. The process itself for supporting statement writing is fairly formulaic:
Start by cutting and pasting all criteria provided into a Word document and then
Addressing each criterion individually.
Don't duplicate – each criterion is different, regardless of what you might feel. If you can't see the difference you should speak with the advertiser or board to understand what the nuance is – I guarantee that there is one and you will be judged against it if you don't address it. Even if they seem similar, you must not just replicate a response you have already written.
Whilst you should not duplicate your responses, don't be afraid to use your examples of success more than once. It is highly probable that one example of success will demonstrate your ability to address a number of different criteria.
Once you have finished it you should then put the content into the form or format that they request.
A word of caution, don't forget to save your document regularly while writing your supporting statement! There is nothing more disheartening than losing a polished application!
Supporting Statement Writing: the Process
Once you understand how your statement will be graded and what it should look like, you can start writing each response.
In essence, each response should have three elements to it:
Technical response: Outlining that you understand that they have asked you to address these particular criteria. For example, if they ask you about governance, you might begin by saying that 'strong governance is an important element to any board because… ', and then stating why you think that is the case.
Example: You should then provide an example of where you have personally addressed the criteria in a practical environment. Following the theme of governance you might say something like: 'Perhaps the best example I can provide demonstrating my governance expertise was as a Non-Executive Director of…'
Success: Finally, you need to provide an example of success in the same environment. Perhaps say something like: 'In this role, I improved the governance of the board by…' (include your success and outcomes).
Example of a Supporting Statement
The following is a dummy example addressing one of the criteria you are likely to have to face:
Demonstrable experience as Non-Executive Director (or equivalent).
I have held numerous Non-Executive Directorships in my career. In each of these roles I was, as part of the board and under the Chair's leadership, responsible for the sound governance and strategic direction of the associated company. My most recent appointments include:
Non-Executive Company X
Non-Executive Company Y
Deputy Chair Company Z
In each of these roles, I drove financial accountability of the CEO and Executive team, sat on sub-committees including (A, B & C) and also worked closely with the Chair and my board colleagues on projects such as: Project D, Project E & Project F.
I hope that this example will go some way to clarify what is required when addressing typical selection criteria.
Supporting statement writing is, of course, going to be specific to your situation and will take some time. However, doing it properly once will make subsequent applications easier.
Board Direction helps you fast track your appointment as non-executive director. Click here to find out more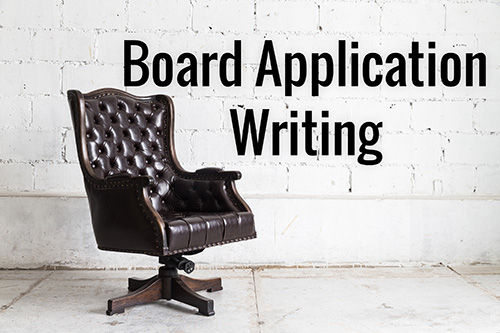 The writing of Board Applications (including the Cover Letter, Supporting Statement and Board CV) can be a daunting process for most people. Let us help you write an application that will not only set you apart from all the other applicants but will dare them not to appoint you.
Read more about our Board Application Writing Service
About the Author
David Schwarz is CEO & Founder of Board Direction – Australia's leading board advertising and non-executive career support firm. He has over a decade of experience of putting people on boards as an international headhunter and a non-executive recruiter and has interviewed over one thousand non-executives and placed hundreds into some of the most significant public, private and NFP roles in the world. He has been described as Australia's leading board recruitment expert, is a published author, a regular speaker on the board appointment process and runs Board Search Masterclasses across Australia. He is one of Australia's Top 10 LinkedIn users with over 29,000 connections. Email: ua.mo1656871421c.noi1656871421tceri1656871421ddrao1656871421b@tca1656871421tnoC1656871421