Recently I was invited to present with highly experienced and successful Non-Executive Director Janice van Reyk, as a part of the CPA Australia podcast series (to the interview itself, click here). Janice is a CPA, a Fellow of the Australian Institute of Directors and has been a non-executive director since she was in her twenties. She specialises in chairing audit and risk committees and safety and environment committees. Her current directorships include Australian Naval Infrastructure, Lochard Energy, Tennis Australia, and the Northern Territory Environment Protection Authority.
During the session we covered everything about getting a board role in Australia including addressing your board aspirations, roadblocks you may encounter, a 3-step plan to a board appointment, personal connections are important, leveraging your C-suite experience, skills matrix & board fit, in-demand board roles & skills.
Here is just a snippet…
What do you find are the main ways people get appointed? 
David Schwarz: 
Look, I worked briefly with the Australian Institute of Company Directors and I ran their directorship opportunity service which is their job listings site. And when I was there, I did a study and I asked how current directors found their most recent board appointment. And we got four responses. 10% of people said they're appointed to their most recent board via an advertised opportunity. 10% said they used a recruiter and they were appointed by a recruiter. 15% said they'd directly approached an organisation with an offer to help. And an overwhelming 65% of people were appointed to a board via a personal connection or said they were appointed to a board via a personal connection. Look, it wasn't a perfect study. It was possible that a recruiter advertised a role and a colleague told them about that opportunity. But it was pretty clear that successful non-executive directors thought it was their personal connections who vastly were more valuable than all those other elements combined. 
What about a mid-career executive? What are your thoughts on how they might make a move into board directorships? 
Janice van Reyk: 
Well, firstly, I would say a lot of what David just said is excellent advice, and I wish someone like him had been around to have helped me back in the day. But several things really struck me, and resonated. And I think that whole know your wheelhouse, have the clarity and focus about that early enough in mid-career, I think it's really important about where you're going to fit best. But then I would add something David also said that you need to get an executive skill set. And to me that does mean getting to the C-suite or whatever the equivalent is in your field because it might be, I don't know, academia, science, or even the defence forces. People in those areas do get appointed to boards as well because they have very valuable skills to add. 
So, whatever that equivalent is of getting to the most senior level in your chosen sphere is always really important because it means you've been at the pointy end of the ship. You've been used to making those bet the company kind of decisions within uncertain conditions with imperfect information. And that's this closer that it's going to get to the sorts of collective judgement you have to exercise as a director because that's what directors do. So, I think that's really important to take your career as far as you can go to the highest level of seniority. 
And then I think you need to be able to demonstrate a track record of going beyond what your specialty is. People want to know that you've got that leadership and influential skill that you can work across peers, across an organisation to achieve whatever the strategic outcome is or execute on your strategy or your project. And again, that's a very necessary skill for directors to have because, again, it's a collective decision-making body. It's a collective endeavour, and it's those sorts of experiences that help you get to the start of being a director. 
Last tips or advice or do's and don'ts about embarking on a board director career?
Janice van Reyk: 
You always miss the shot you don't take. So, whenever a board opportunity came my way, I made sure I put my best foot forward and gave it my best shot. And I will be honest with you to say that I've not been appointed to boards more often than I am, and that's just the way it is. It is a bit of a numbers game. But I've always persisted. I always take every shot, and some fall in your way, some don't, but you just get up the next day, and you keep trying. And if you do that for sort of 20 years or whatever it is that I've been doing, then the consistency of that does pay rewards.

David Schwarz: 
I think perseverance is a very, very common trait of successful board directors. I think the other thing is just real clarity about what your value is at board level and which sort of organisations are going to value it. So, my advice is to be clear on that. That will make this process that much more focused, and you're going to get a far greater return on the investment of your time if you're chasing opportunities that you know you can be appointed to and that you want to be appointed to. 
Please take some time to listen to the full 50-minute podcast and/or download the full transcript. I am sure everyone will find some valuable advice and takeaways.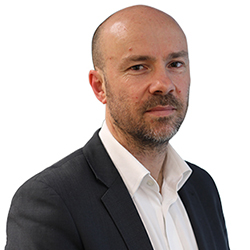 David Schwarz is CEO & Founder of Board Direction – Australia's leading board advertising and non-executive career support firm. He has over a decade of experience of putting people on boards as an international headhunter and a non-executive recruiter and has interviewed over one thousand non-executives and placed hundreds into some of the most significant public, private and NFP roles in the world
Share this article on your favourite platform!