Board Direction, on behalf of the Vita Curae, is seeking two (2) Non Executive Directors with expertise in either: 1. Finance/Audit & Risk or 2. Legal – Corporate Law. Plus, a genuine passion for healthcare and commercial and entrepreneurial background.

About Vita Curae: While it is true that there are talented and caring medical, allied health and senior care practitioners within the industry with a focus on patient experience and wellbeing, they often exist within cottage businesses that do not have the scale to enable a state of optimal health & happiness for many. Vita will provide that scale. Moreover, Vita offers a co-location of an integrated set of primary health and senior care facilities and, zero carbon senior living, health tech integrations, CDMP program care panels etc. As such, Vita Curae is reshaping Australia's care industry by creating the places, pathways and support structures for all people to achieve optimal vitality and happiness.
Background: Vita started as a concept born from the desire of two business people, Sunil Kumar and Peter Terrill. Two imagineers sitting across a table in mid 2017 with a vision reimagining what the health and care industry could be, and a conviction that Australian consumers deserve better outcomes from this industry.
Broadly, Vita has a diversified strategy of revenue generation, these streams include:
Income from Vita Care Senior Living Precincts
Patient fees from stand-alone GP, allied health and dental practices
Brand fees from partners i.e. Pharmacy
Platform app income
Managed services fees
NDIS business revenue
Homecare packages
Sale of health technology hard and software products
More specifically, four distinct opportunities have been recognised:
Allied Health: Allied health professionals provide a broad range of diagnostic, technical, therapeutic and direct health services to improve the health and wellbeing of the consumers they support. Allied health compliments general practice and senior care and as such is an indispensable part of Vita's fully integrated health and care business.
General Practice: Vita offers an attractive environment for general practitioners of patient centered, outcome focused care where practices are not measured on how many patients they service but on how well they service them. Vita's vision is to build a network of like-minded general practitioners who share best practice, and grow along with Vita.
Senior Care: A cornerstone of Vita's belief in creating fully integrated care precinct offerings is Vita Senior Care. Not just from the obvious fiscal upside, but for the growing importance that quality, affordable, human centered care holds in an aging population.
Pharmacies: Vita's focus on providing consumers with an integrated care offering includes a panel of GP's, Pharmacists and
other Allied Health professionals to manage better health outcomes. This necessitates a network of Vita branded pharmacies as a key component of Vita's vision of enabling optimal vitality and happiness.
Today: With developed strategies, operating plans and funding in place and the first centre opening in October 2019 Vita are working from a strong base. A further six (6) sites in Victoria (Edgewater, Sunbury, Tarneit, Sunshine North, Packenham and Harkness) are in the pipeline and are due to be opened by mid 2021. Opportunities in SE Queensland are also in their sight.
The Future: 40 sites are planned by 2025 and a proposed turnover of $200m annually. A public listing is planned once an appropriate market valuation is reached.
Technology: Currently no comprehensive service exists that connects primary care through to aged care services and everything in between. Core to Vita's offering is technology 'care coordination' that will connect all primary and senior care services and information to an individual via a next generation web application. In so doing superior service and health outcomes can be made possible.
For more information about Vita and the board, please download this Overview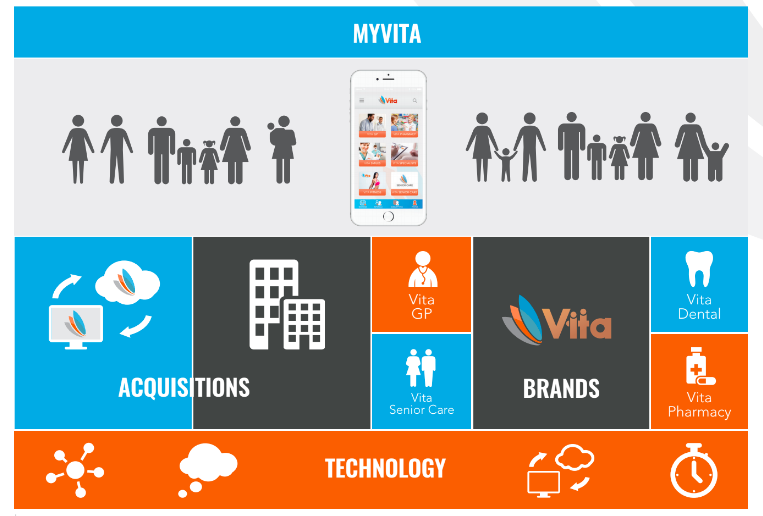 The Opportunity: Two NEDs are sought to compliment an existing board made up of the Founders & Shareholders and Independent Directors. As such, the successful NED candidates must bring complementary skills (as set out below) to the board but will also be tasked to use their: demonstrable passion for healthcare, entrepreneurial skills & experience and, specific connections to drive and guide the success of the business. All the while managing risk and contributing to meeting the significant challenges that compliance, regulatory and governance matters have on the business.
This is an exciting opportunity to be involved in a groundbreaking business that seeks to leave a lasting legacy on the healthcare landscape. It also offers an opportunity to get in on the ground floor of a business with ASX aspirations. Moreover, Vita is focused on building quality, and whilst investor returns are important, the focus of the company is to deliver quality services that save lives!  A truly exciting opportunity.
Person Specification: Vita requires two (2) Non Executive Directors to compliment the skills and experience of the current Directors. Specifically, they must be able to evidence success in the following core criteria.
Governance: Demonstrable board level governance experience in a business of similar scope and scale  – particularly in startup, entrepreneurial or highly commercial settings.
Skills & Experience: Evidence of one (or more) of the following:

Finance – with Audit & Risk expertise: ideally in a Healthcare or regulated environment,
Legal – Corporate Law: experience with M&A, Health, and Indemnity would be useful.

Networks & Connections: Demonstrable understanding of, and connections with, the Healthcare or Health Tech sectors.
Passion: A demonstrable passion for a business such as Vita.
Cultural Fit: A demonstrable passion for entrepreneurial businesses, experience working in highly commercial health companies and a genuine passion for wanting to make a difference in peoples lives.
Location & Time Commitment: Board meetings are held in Melbourne 10-12 times a year. Applications are open to national candidates but preference will be given to those on the East Coast (ideally Sydney or Melbourne or who have significant East Coast connections). You must be able to attend all board meetings in person (not electronically).
Remuneration: This is PAID opportunity.
Next steps & Interviews: To apply please complete the form below. Appointments are anticipated to be made in mid April to coincide with an April 17th Board Meeting. Initial interviews will take place via skype/phone and subsequent interviews (with shortlisted candidates) in person in either Sydney or Melbourne.
Further information: Please complete the form below to apply. However, any questions can be directed to  ua.mo1701193209c.noi1701193209tceri1701193209ddrao1701193209b@tca1701193209tnoc1701193209
Not for you? You can view our other vacancies HERE
To Apply
You MUST complete and submit the form below in full and attach your Board CV prior to the FRIDAY 5th APRIL 2019. There is a STRICT 1500 CHARACTER limit for each section.
To avoid disappointment we strongly suggest that, prior to completing the form below, you save your responses to each criteria in a Word document and then paste them directly into the relevant sections below.
Upon submitting your form you will receive an automatic notification of receipt at the bottom of this page and by email. If you do not receive this within 24hrs you should assume your application was not successfully processed (usually this is because the CHARACTER limit has been breached). Either please try again or email  ua.mo1701193209c.noi1701193209tceri1701193209ddrao1701193209b@tca1701193209tnoc1701193209