There are 3 types of boards that are commonly available to those who seek to serve on a board. They include:
Government Boards & Committees
Commercial Boards
Not for Profit Boards
In this article, I want to focus on Government Boards and Committees.
Government Boards and Committees exist in a wide range of industries
In Australia, there are 401 government boards. They range across a wide range of industries.
Agriculture;
Media/Arts;
Communication;
Defence;
Education;
Employment;
Environment;
Finance;
Foreign Affairs & Trade;
Health;
Industry;
Infrastructure & Development;
Social Services;
Treasury;
Veteran's Affairs;
There are various places you can find vacancies on Australia's government boards. Although many government board roles are advertised on the Board Direction website, you can also view some of them on the State and Territory Governments' own websites.
It is worth taking a look at the Government Boards websites for a couple of reasons
One might think that the only valuable information someone looking for a board role can find is a list of current vacancies – that is not true. Apart from finding available board roles, there are two very good reasons to browse these websites.
Firstly, on the Government Boards websites, you will not only find the names of the boards but also a full list of the Chairs and current board members. These sites are regularly updated, so they remain current. As such it is a natural place for you to begin your research and your networking.
Even if you do not desire a role with a government board, understanding who the influencers are in your area of expertise/interest can be incredibly valuable. I recommend using the list of board members available on this site as a readymade list of individuals that you could approach to discuss current industry issues or to introduce yourself to regarding your wish to further your board aspirations.
Secondly, this site not only has the names of current board members but also the date that their appointment term comes to fruition. If you are interested in serving on one of these boards, then you can diarise a time to approach the Chair with a proposal for you to sit on their board. This proactive approach can be very attractive and demonstrates not only pro-activeness, but also intelligence and determination – good qualities for prospective board members to have!
State & Territory Board and Committee Vacancies
Below is a list of links to the different State and Territory Government websites. If you are interested in finding a role on a government board, you should register your interest on these websites to receive notification when there is a vacancy that you might qualify for.
NSW government
https://www.boards.dpc.nsw.gov.au/board-vacancies
Email: [email protected]
Pre-qualification scheme link: http://www.procurepoint.nsw.gov.au/scm2421
VIC government
http://vacancies.publicboards.vic.gov.au/jobtools/JnCustomLogin.Login?in_organid=18453
QLD government
https://www.qld.gov.au/about/how-government-works/other-government-bodies/qron/join/
Email: [email protected]
SA government
http://www.dpc.sa.gov.au/what-we-do/services-for-government/boards-and-committees-administration
Email: [email protected]
WA government
https://www.dpc.wa.gov.au/Consultation/Pages/GovernmentBoardsandCommittees.aspx
Email: [email protected]
TAS government
http://www.dpac.tas.gov.au/divisions/csr/programs_and_services/women_on_boards_and_committees/board_and_commitee_vacancies
ACT government
http://www.act.gov.au/browse/act-government/boards-commissions-advisory-councils-and-committees
Handbook: http://www.cmd.act.gov.au/__data/assets/pdf_file/0003/113583/boards-committees-handbook09.pdf
NT government
https://business.nt.gov.au/business/business-boards-committees-and-advisory-councils
Handbook: https://dcm.nt.gov.au/__data/assets/pdf_file/0014/260150/nt-government-boards-handbook.pdf
Board Direction helps you fast track your appointment as non-executive director. Click here to find out more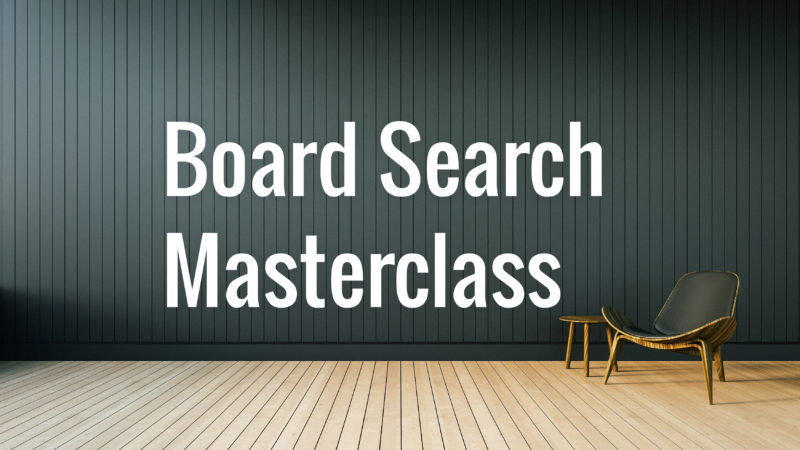 Learn how to FIND, how to GAIN and how to FAST TRACK  board appointment with David Schwarz – Australia's leading board recruitment expert. The knowledge you gain during these in-depth sessions will revolutionize the way you go about getting a board appointment, thus you will dare them not to appoint you.
About the Author
David Schwarz is CEO & Founder of Board Direction – Australia's leading board advertising and non-executive career support firm. He has over a decade of experience of putting people on boards as an international headhunter and a non-executive recruiter and has interviewed over one thousand non-executives and placed hundreds into some of the most significant public, private and NFP roles in the world. He has been described as Australia's leading board recruitment expert, is a published author, a regular speaker on the board appointment process and runs Board Search Masterclasses across Australia. He is one of Australia's Top 10 LinkedIn users with over 26,000 connections. Email: [email protected]